Clean Room Display Water Test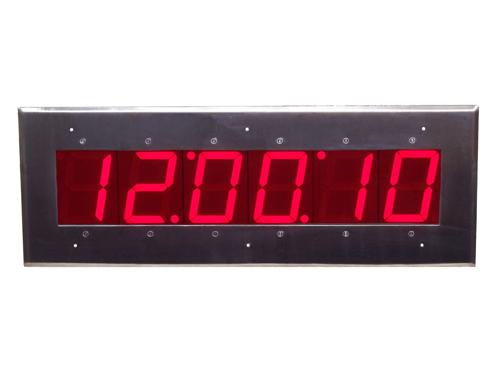 Our displays are manufactured with the greatest care. The DC-406N-POE-FLUSH-STAINLESS, for example, has been tested to highlight how our displays repel water and protect the vital electronic components in our timers and clocks from getting wet. These well insulated displays are perfect for sterile clean room environments. Our IP66 rated enclosures are water and dust resistant. The 316L 16 gage enclosures have a high degree of corrosion resistance. They can be mounted on the surface of an already existing wall, or mounted flush with a wall. These clocks display atomic time of day in the 12 or 24 hour format, are powered over the Ethernet, and come with a network page for the product.
How exactly do we keep water out of our displays?
Silicon- used to fill any seams and prevent water from entering the back of the boards
Closed-cell foam- impervious to substances like water, gas, chemicals, etc. When pressure is applied, it creates a gasket
Conformal coating- used in outdoor models to make electronic components water resistant
With the help of these extra steps, we insure that our displays will last and can be used in environments that get thoroughly cleaned daily. For all of your unique digital timing needs, contact us today.
See our video of the water test below!
See product: DC-406N-POE-FLUSH-STAINLESS
See all of our clean room products here
Contact us at DC-Digital for more info! Contact us
Connect with us on our socials