Atomic Time Wash Down Clock for Food Processing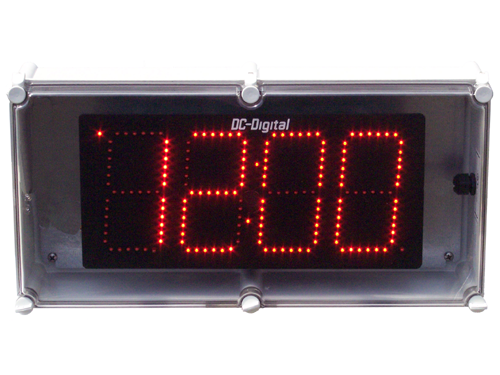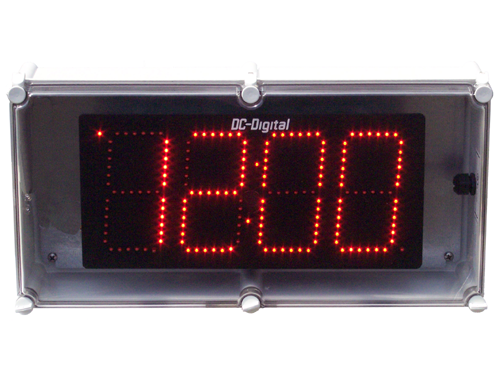 Do you work or manage a department that is constantly in need of cleaning and worry that there is no way to keep a time of day clock safe in such an environment? The good news is that it is possible and DC-Digital has the solution for you! Costco ordered 10 of our DC-60N-POE-NEMA 6 inch LED digital atomic time of day timepieces for their meat processing department. This digital timepiece is enclosed in a watertight case and is made to be washed down so it is perfect for the sterilization that food processing, pharmaceutical, and cleanrooms need. The NEMA 4X IP-66 case is water resistant- completely protected during the cleaning process- and hinged so that the inside of the clock can be viewed and accessed.
This clock is powered and programmed through Ethernet cable. It uses our version 2.0 NTP which is a webpage, browser based program that allows the user to visualize the IP address along with other diagnostics. The webpage is user friendly and easy to operate. In configuration settings, you can update the interval at which it synchronizes from 1 minute to 1800, change the hour format from 12 to 24, and change the time zone. In network settings, you can password protect and name the device. The program is fully automatic after it has been configured, and shows indication on the display if the connection is lost. If a customer orders more than one display like Costco opted to, they can be linked together and all operated from the same webpage screen. Users are also able to access the webpage through a phone or other devices for maximum convenience.
See product: DC-60N-POE-NEMA
See video: Video for DC-60N-POE-NEMA and Video for version 2.0 NTP software
Contact us at DC-Digital for more info: Contact us!
Visit our home page