Large Digital LED Process Countdown & Overage Timer w/Manual and Machine Inputs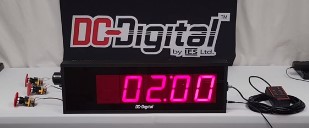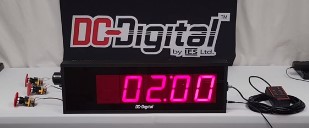 Custom made for Dana corporation to give visual representation to their employees of the remaining process time and if it goes over, then it automatically goes into count up mode, representing process overage time (this is represented with a Negative (-) while counting up).
– Manual and automated remote controls (PLC inputs PNP or contact closure) for start, stop, and reset to the last preset value
– Presents remaining process time and then once it reaches 00:00, it represents negative or overage timing
– Maximum awareness with a large LED display for up to 200 feet viewing Here's how we did it.
We started with our DC-Digital standard product… DC-405T-DN-NEG-WR
…and then we added pigtail connections for 3 machine or PLC inputs for Start, Stop and Reset to the preset value.
It has 2 ways of controlling the inputs (1) is the modular wired remote controls; This is used to set the countdown time and also start & stop the timer. (2) Pigtail wires for external contact closure or PNP inputs to 1) Start the timer, 2) Stop the timer and the other 3) to stop the timer. This gives hands free operation once it has been preset by the manager. 4 inch LEDs allows for viewing up to 200 feet away bring awareness to all needing reminding. The timer will count down from a preset value after started then once it reaches 00:00 it will revert to a count up timer and present the onlookers with a (-) negative sign representing overage time. It is enclosed in an all extruded aluminum case with a 1/8 inch red acrylic lens and textured black powder coated finish. It runs on a 120 volt wall adapter. Veteran owned and totally built in the USA!
See also our video on how it works: Youtube on DC-405T-DN-NEG-WR-DANA
See our other countdown timers product page: DC-Digital Countdown Timers
See all of our other number displays: DC-Digital Home Page
Contact us for customization or questions?