DC-Digital Vehicle Clocks
DC-Digital vehicle clocks are specially designed to reliably and accurately keep time and the punishment of the road. Sealed and streamlined all aluminum enclosures flush mount right into your bulkhead. There are with several ways of setting types to choose from; GPS Atomic set, front Push-Button set or Master-Secondary synchronized wired or wireless system set. All USA made! Need customization?
Contact us
220.95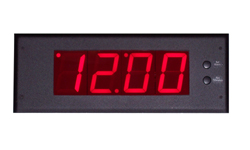 *Quantity Pricing Available. Follow link for details.