DC-Digital LED Counters
DC-Digital's industrial LED counters keep the count so you don't have too! Whether you are keeping count of parts or processes, wanting to know production efficiency, days without an accident or incident or just counting cars or customers we can help with keeping it accurate without worries. We provide maximum display awareness combined with accurate input triggering and controlling. Designed, engineered, manufactured and tested to provide you with the count so that there are no questions or mistakes. Created and manufactured in the USA! Need customization? Contact us
See more information (at bottom of page)
DC-SBL-2E-WEB-COUNTER:
Now you can view and control your counter(s) anywhere in the world! Our new browser based on board web page allows the counters to be viewed, configured, and controlled anywhere. We can also combine multiple counters onto 1 web page so they can all be easily seen on 1 screen.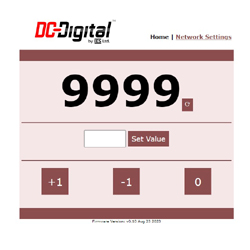 DC-406C-2-EFF-KEY-PACE;
Large LED production scoreboard pace counter takt timer. 4 inch LEDs 6 digits for up to 999,999 units per shift. Allows everyone to see well they are producing and at what pace with efficiency calculations up to 200%. Counts and displays seconds per part, parts per second, or parts per minute. Sensor input and keypad controller.
Engineered, manufactured and vigorously tested to accurately and reliably count and display pace, processes, efficiency, production, even safety days and customers. They are designed to be controlled by sensors, PLC's, switches, relays, even network browser based webpage through computer or cell phone. They are designed for indoor and outdoor waterproof super bright 1 to 30 inch LED digits that can be visible up to 1500 feet away. The electronics have a tough rust-free, textured powder coated all aluminum enclosure (standard), with stainless steel, poly-carbonate, and NEMA 4X enclosures also available. Created and manufactured with the finest quality USA parts and craftsmanship! Need customization? Contact us
Go back to top of page