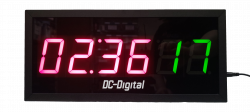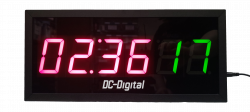 Its a drive through timer and counter all in 1. It displays the current customer's wait time and their number for the day. It is a multi-color display; Red for the count up timer (MM:SS) and Green for the Car Count. The timer is used to show how long the current customer has been at the window, and the counter is used to show how many people have been at the window so far that day. The timer and counter use different colors to allow employees to easily differentiate between the two displays types while keeping the display within the standard 2.3 inch LED, 6 digit case size. See also DC-256T-UP-TERM
OPERATION: There are three different main functions of the display. The Start function will increment the counter as well as start the count up timer. After 10 seconds, the timer will allow the Stop function to be activated, which will stop and zero out the timer. The counter does not change when the timer is stopped. The 10 second buffer is to limit the amount of false stop triggers by cars in the drive through. The final function is the Reset All function, which zeros the counter as well as stops and zeros the timer.
Below is a short video demonstrating all the functions of the timer.
Outside of the drive through, this combination display can be used for sporting events in order to display the competitor number and the time elapsed during that competitor's event. With a minor programming adjustment, the timer can keep the time elapsed on the display after the it has been stopped.
Please check out our website or contact us for more information!