4.0 Inch, 4 Digit, Red LED,RF Wireless controlled, Universal Count Up or Countdown Timer and Time of Day Clock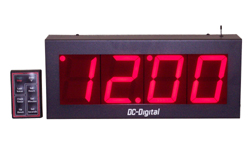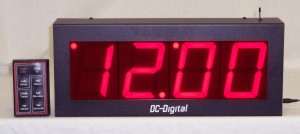 Specification Sheet: DC-40UTW. This is a large made in the USA, RF wireless 4.0 inch high, 4 digit, Red LED universal digital timer that will countdown or count up while also keeping the time of day. It can be set for hours and minutes or minutes and seconds (see also the WRC-8 remote control). It can countdown from 99 hours or count up to 99 hours starting or ending at hundredths of a second which is accomplished through Shift Digit Technology (Shift Digit Technology is exclusive only to DC-Digital products). It can be setup as a Master-Secondary RF wireless or wired system so that you can have an unlimited amount of secondary timers that would display the same as the master. It can be installed in a Nema 4x IP66 and IK08 rating enclosure. This is truly a universal wireless clock timer that can be seen up to 200 feet away and operate in a multitude of conditions. In brief it has been used by:
USA Government agencies and departments, Colleges and the educational community, Industrial-Commercial market, Churches and pastoral organizations just to name a few that have enjoyed this product.
Download Manual: DC-40UTW