DC-Digital/Industrial Electronic Service, LTD,(IES, LTD)
Standard Term and Conditions
Estimated Shipping Times
Most Orders Ship Within 3 Days (Excluding custom orders)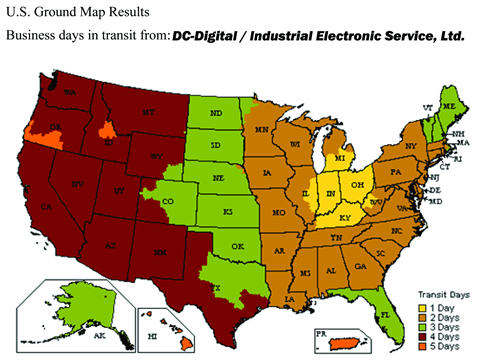 1.) General Terms and Conditions for all products sold by Industrial Electronic Service, LTD:
Most orders ship within three business-days of placement. Orders must be received by 2 pm on any business day to count toward the three day shipping window. Premium shipping (Next-day, 2nd day air, etc) applies to the date the item is ready to ship.
All pricing is in US dollars. All first time orders are check in advance, COD, PayPal or credit card (we accept Visa, MasterCard). International orders are payment in full via wire transfer before shipment. Credit is at all times subject to approval and review by our credit department. A minimal handling charge will be added to shipments.
Customer is responsible for unloading and package inspection of equipment, (customer to pay for any damages not noted on bill of lading). Any cancelled order is subject to a 35% cancellation fee. A 35% restocking fee applies to all non-custom product returns. All returns must be received in like new condition, in original packaging, with an RA number, within 15 days of purchase, to be eligible for a refund. Any item returned without an RA number will be refused.
Custom orders, software, shipping, handling, and rush charges are all nonrefundable. Late payments are subject to a 2% interest charge. Customer responsible for all collection and legal fees associated with late payments. Property ownership will remain with IES, Ltd. until products are paid for in full. Tax-exempt customers must supply a completed tax-exempt form before order can be processed. In addition to the general terms and conditions, the following shall also apply. For question regarding warranties, please request a copy of our warranty statement.
2.) Custom Products:
DC-Digital Products, Scoreboards and Signs With credit approval, return customers pay for equipment 3/4 at time of order and 1/4 before order is shipped. Installation charges will be paid in full upon completion. All custom products are non-refundable. Customer is responsible for unloading and package inspection of equipment. (Customer to pay for any damages not noted on bill of lading). Customer will provide clean electric to equipment and electric hookup. Customer will install all products unless otherwise noted in proposal. Please provide all required artwork in electronic format (Adobe Illustrator).
3.) Force Majeure:
No liability shall result from any cause, (including without limitation Acts of nature, force majeure, labor trouble, inclement weather, shortage of or inability to obtain materials, equipment or transportation and/or orders of courts) beyond the reasonable control of the party affected. Either of us eliminates any quantities, so affected, but this contract shall remain otherwise in effect. If our supply of goods to be sold is limited by any such cause, we shall have the right to reduce or cancel in its entirety our commitment under this contract.
4.) Limitation of Liability:
IES, LTD and/or its employees are to be held harmless and/or not responsible for any claims for accidents, death, dismemberment, or property damage as a result of improper installation, repair, and accidents on the jobsite, equipment that is not installed according to manufacturer's specifications or negligence by others.
Located in Southwestern Ohio, DC Digital is convenient to
Dayton, Columbus and Cincinnati. We work as an approved
vendor for all Ohio state agencies and ship our products worldwide.
Let DC Digital service your electronic clock,
timer and display needs today!